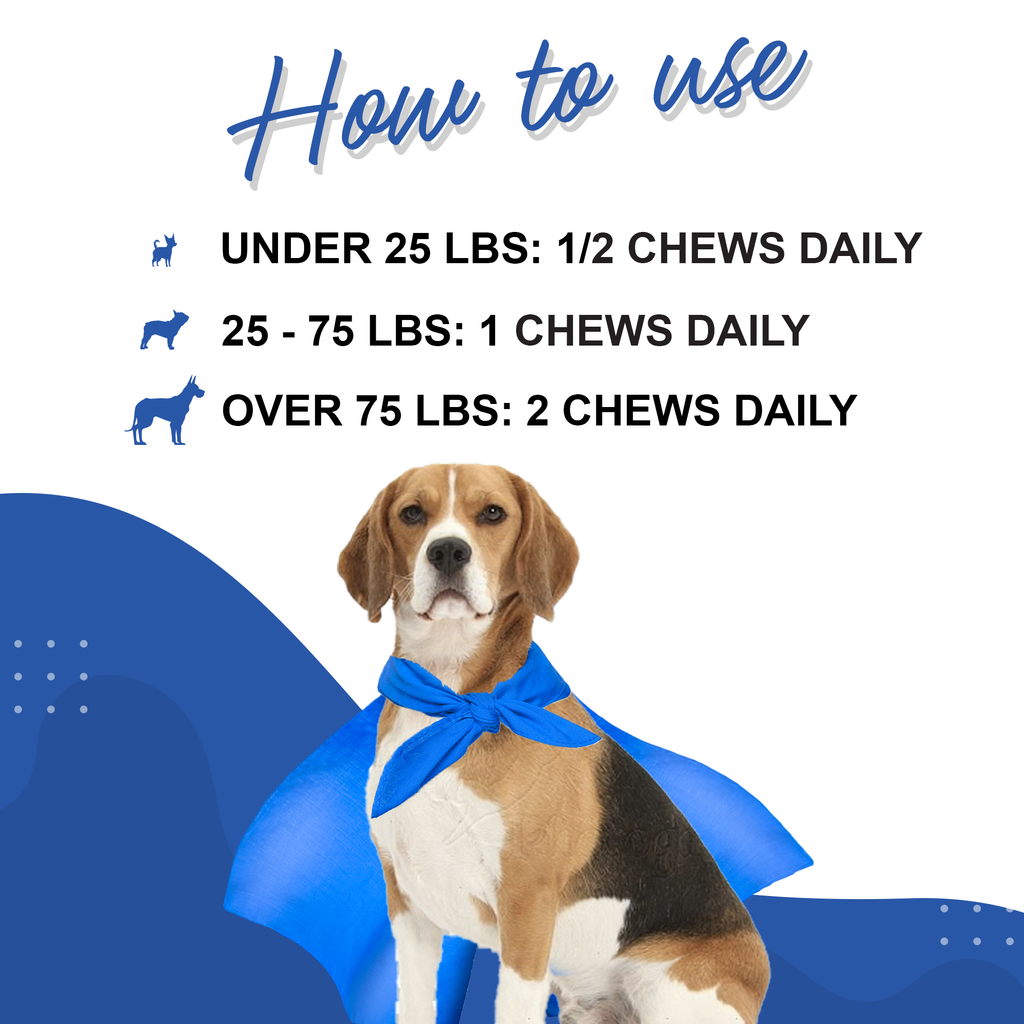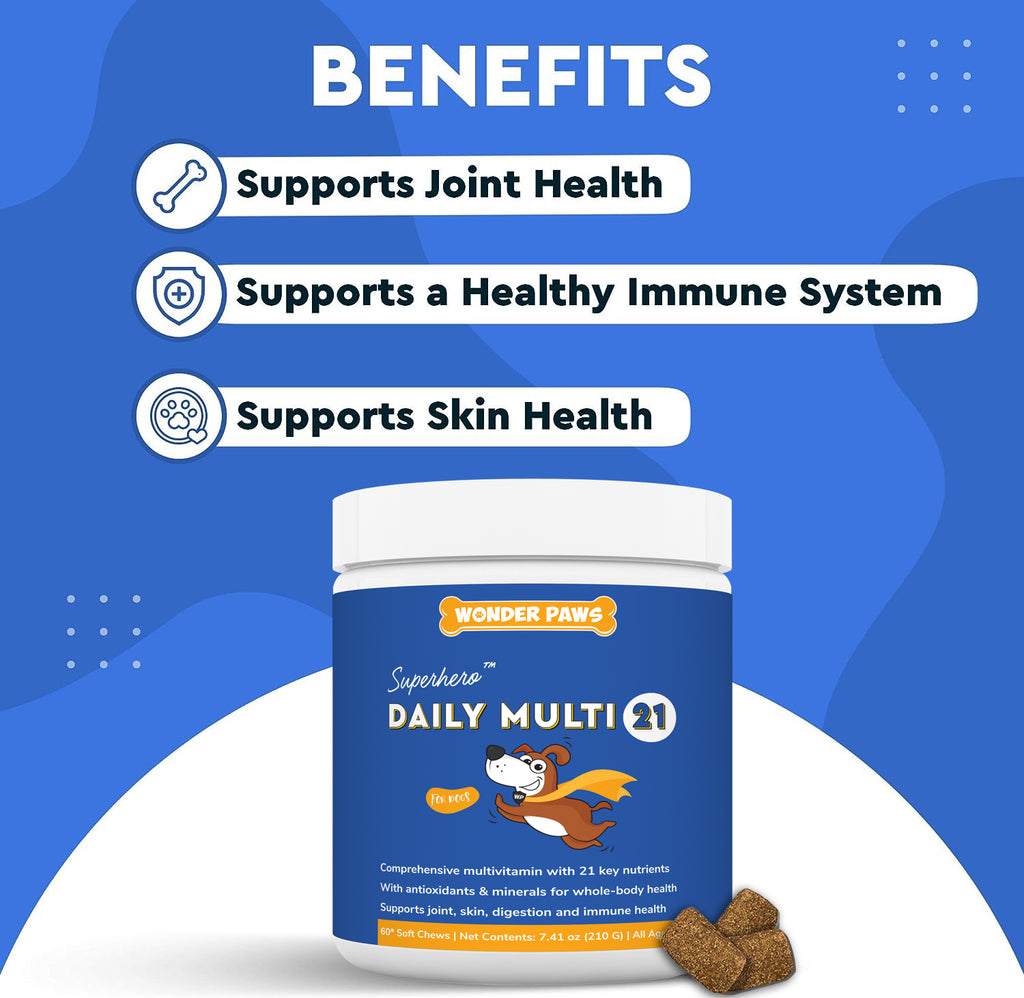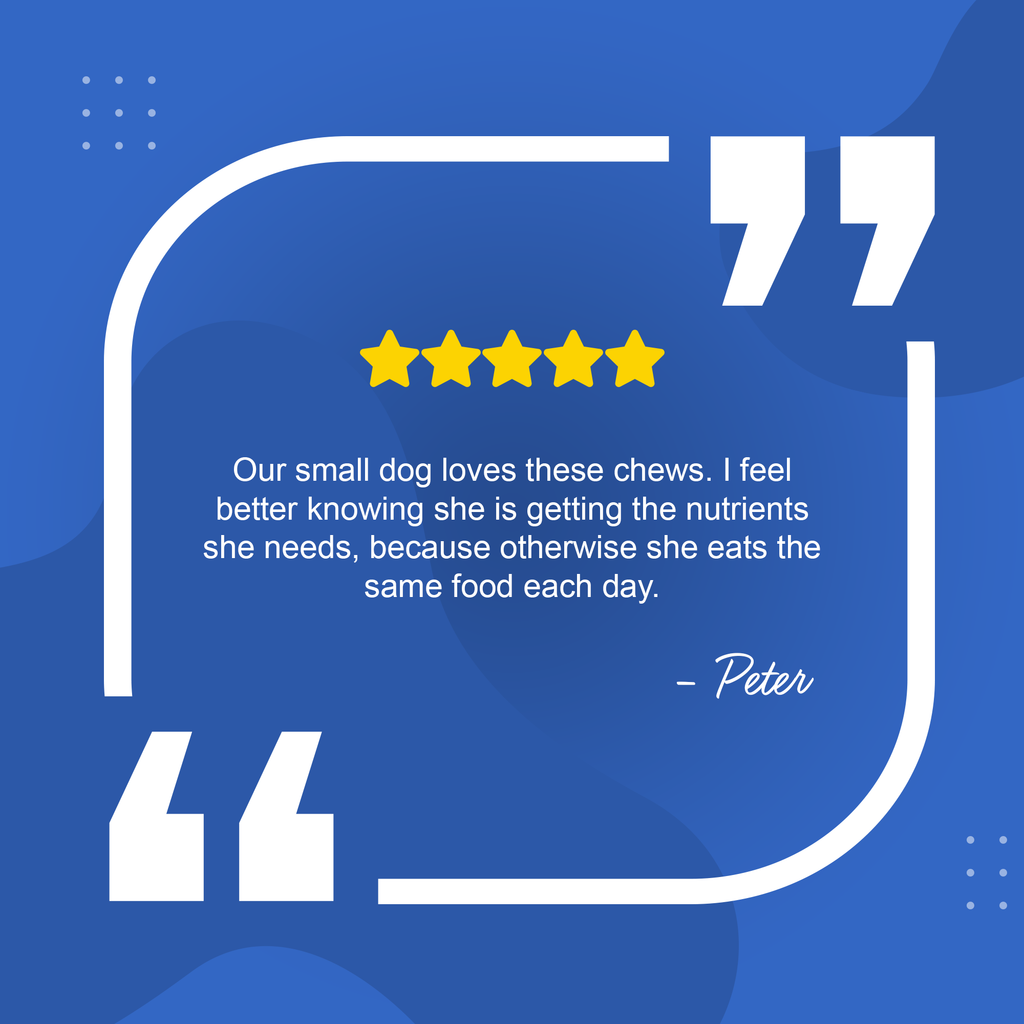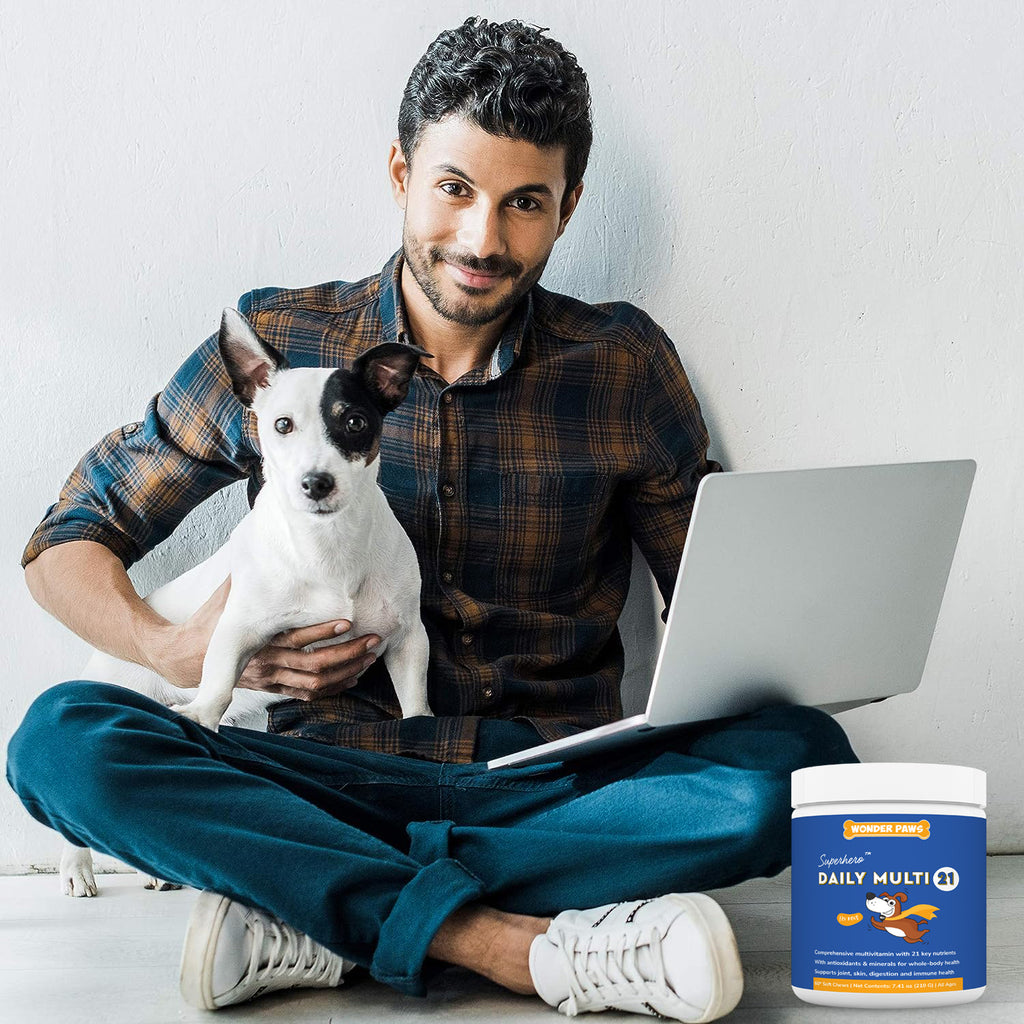 Free Shipping
Over $30

NASC
Certified

Made in the USA with
Global Ingredients

365 Day
Money-back Guarantee

Clinically Studied
Ingredients

Gain the Power of Daily Health with 21 Nutrients!
Wonder Paws Daily Multivitamin Chews are a 21-in-1 formula. With a comprehensive blend of 21 beneficial nutrients for all dogs, no matter the age, size, or breed, our multivitamin has it all! Ready to give your pet a powerful and delicious chew for their overall health? The fun times are just getting started!
Supports Joint and Skin Health
Amino acids and omegas are included in our Multivitamin chews and are beneficial in supporting joints, skin, and maintaining overall physical well-being. Keep those joints happy and that skin maintained and let the fun times roll!
Supports a Healthy Immune System
The blend of minerals and antioxidants found in our formula support your dog's healthy immune system and digestion. A powerful immune system is important for your pet's overall daily health, so give them the support they deserve today!
Supports Normal Energy Levels
Along with the support of joints, skin, the immune system, and digestion, our chews support brain health and heart health, all of which play a role in helping your dog maintain normal energy levels. With these 21 beneficial nutrients, our chewable multivitamin truly has it all!
Make The Fun Last!
✔ Supports Everyday Wellness
✔ Supports Joint Comfort & Mobility
✔
Supports Immune System & Digestive Health
✔ 365 Days Money-Back Satisfaction Guarantee
✔ Ready to invest in your pet's wellness?
What's Inside
Are you looking for a senior multivitamin or you looking for a puppy multivitamin? No matter your pets age, size or breed, Wonder Paws Premium Multivitamin for dogs includes a comprehensive blend of vitamins and minerals essential for daily health so your pet can live happier and healthier days! These delicious multivitamin dog chews are formulated to support joint health, skin health, immune system, digestion, heart health, normal energy levels and brain health. Our chewable multivitamin for dogs has it all!
| | | |
| --- | --- | --- |
| | Up to 25 LBS | 1/2 Chew Daily |
| | 26 to 75 LBS | 1 Chew Daily |
| | Over 75 LBS | 2 Chews Daily |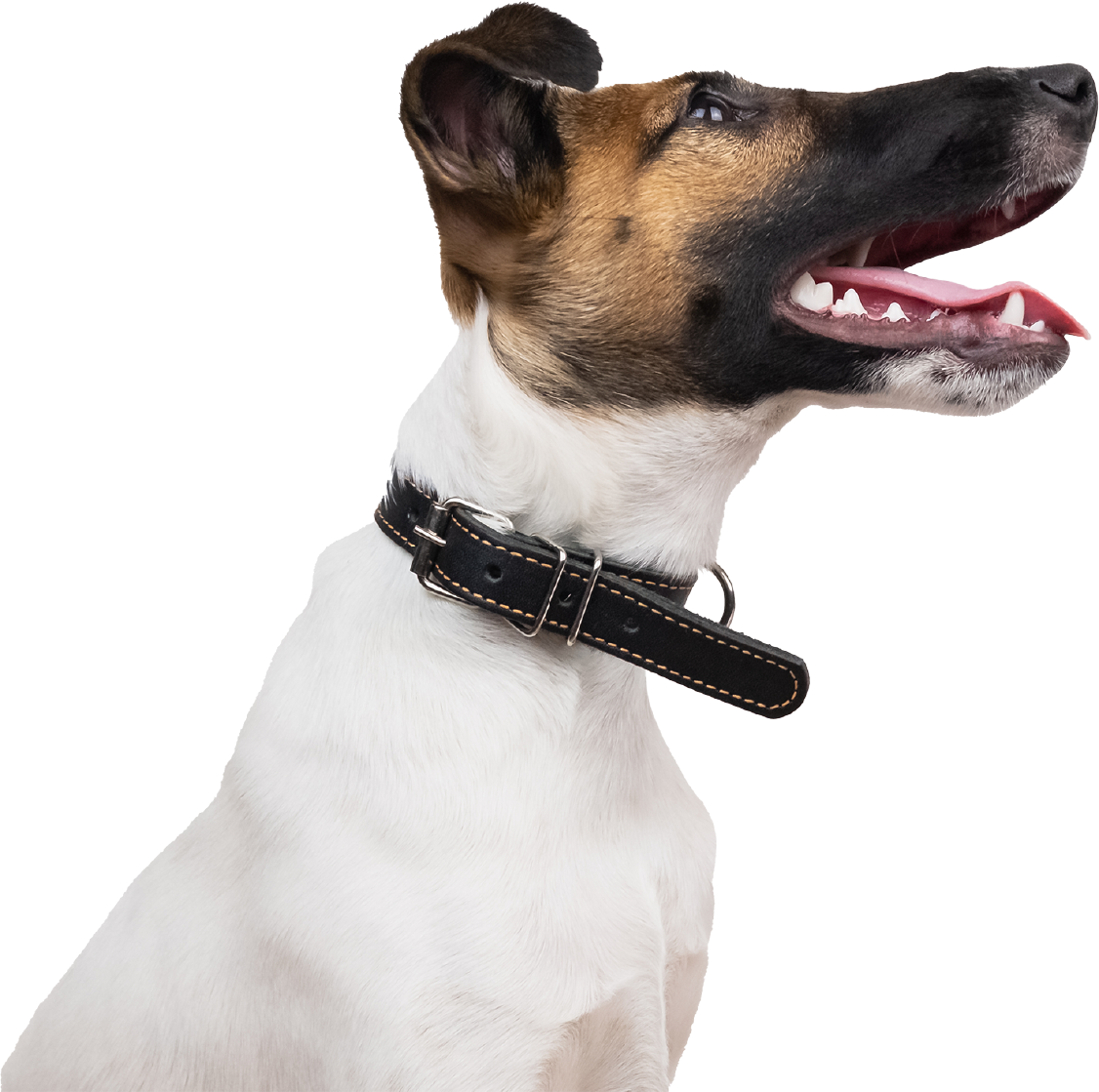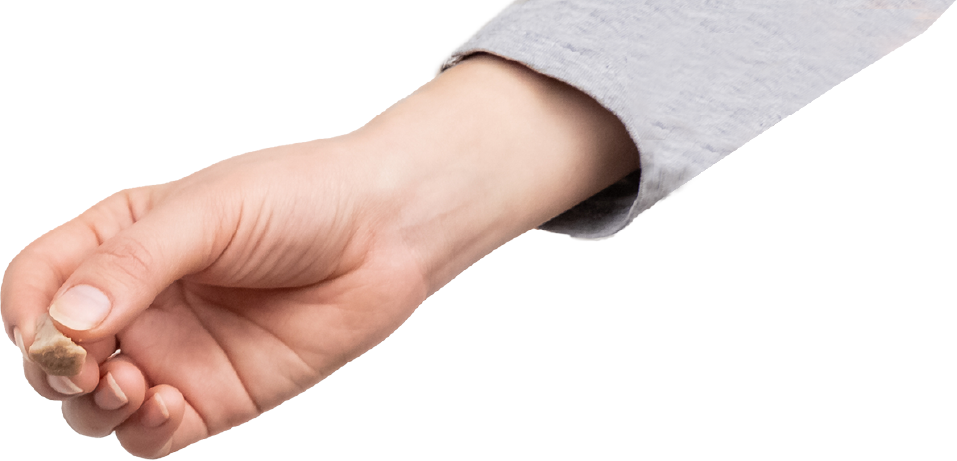 Ready for some health boosting powers?
Harness your pet's immune superpower with the AHCC© mushroom extract
Add to Doggy Cart
Choose Your Healthy Superpower