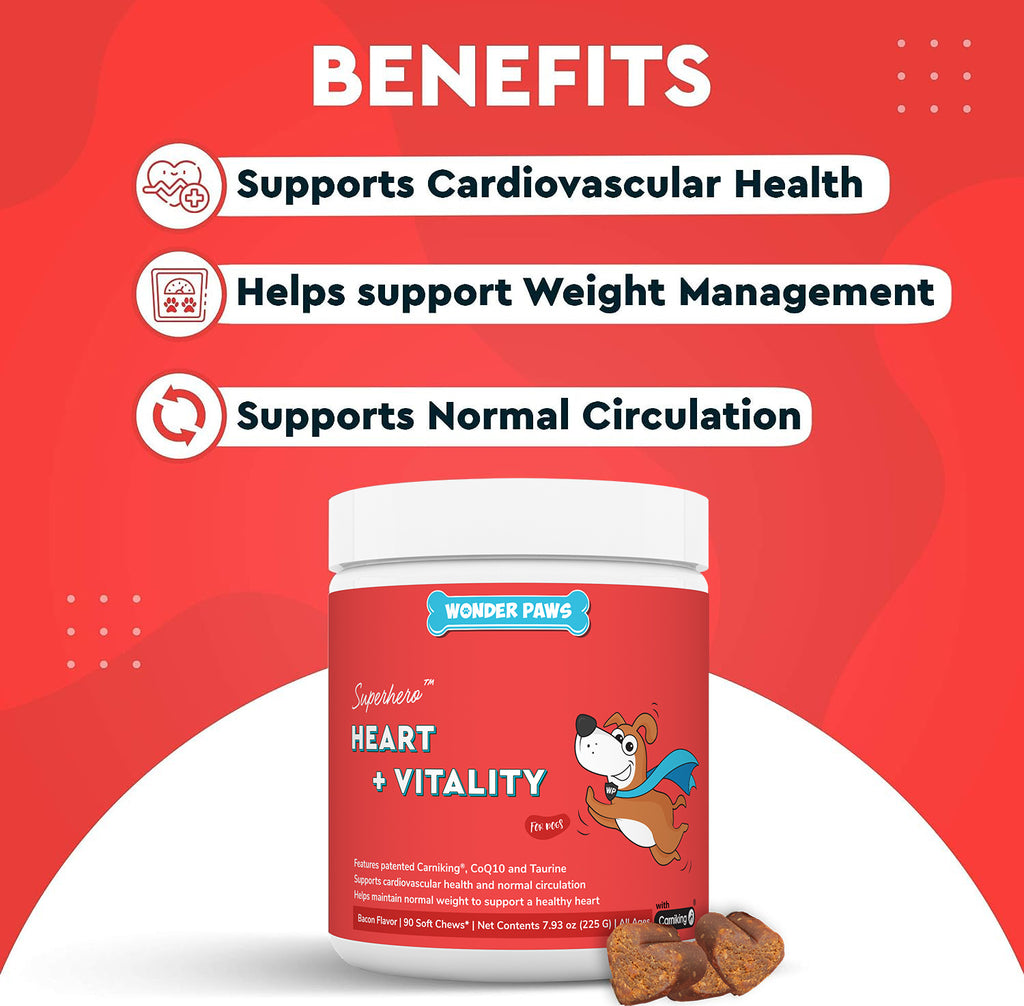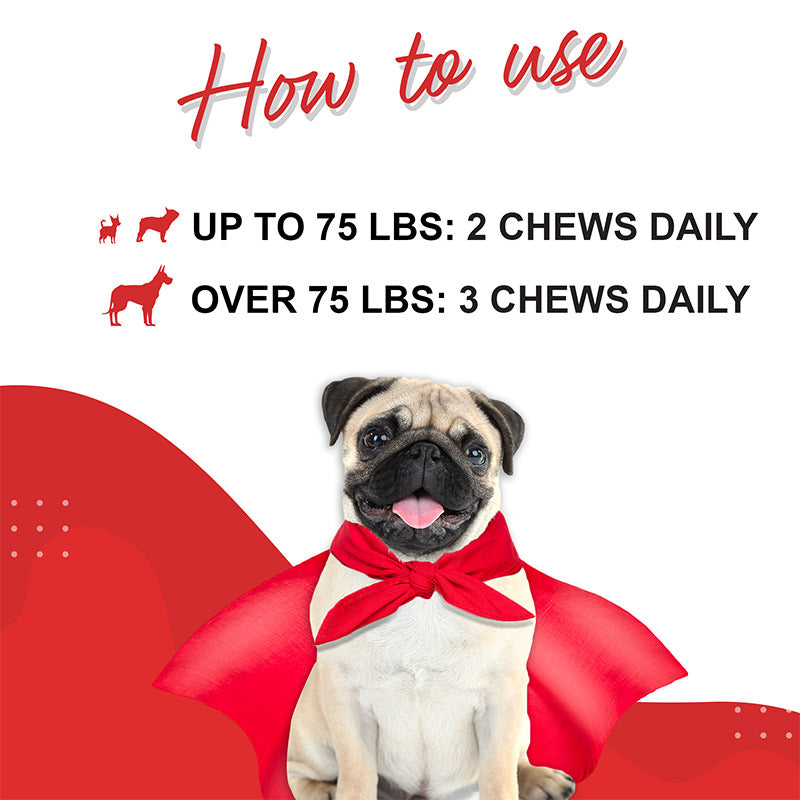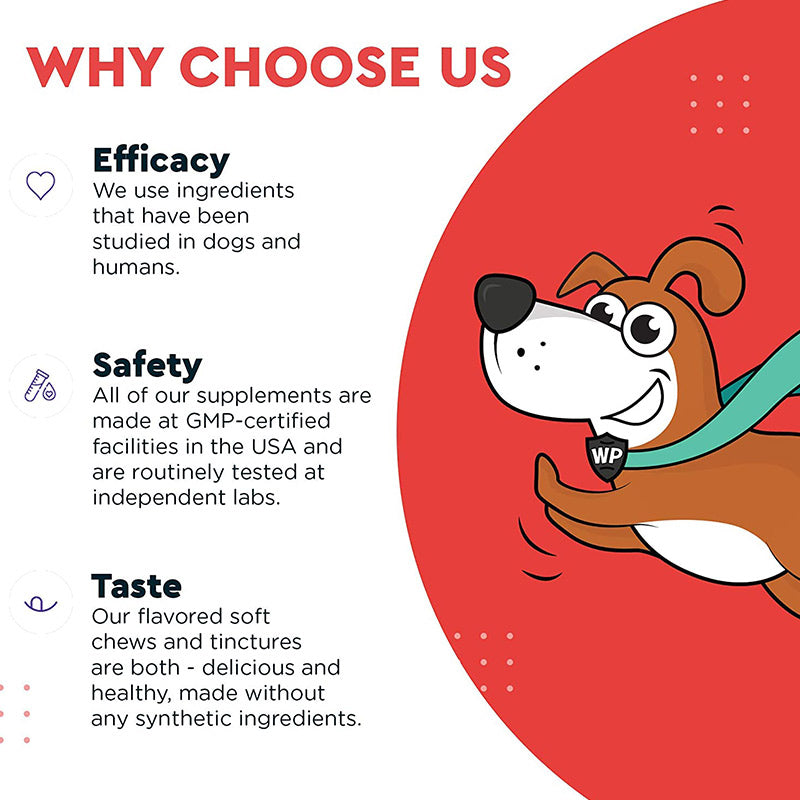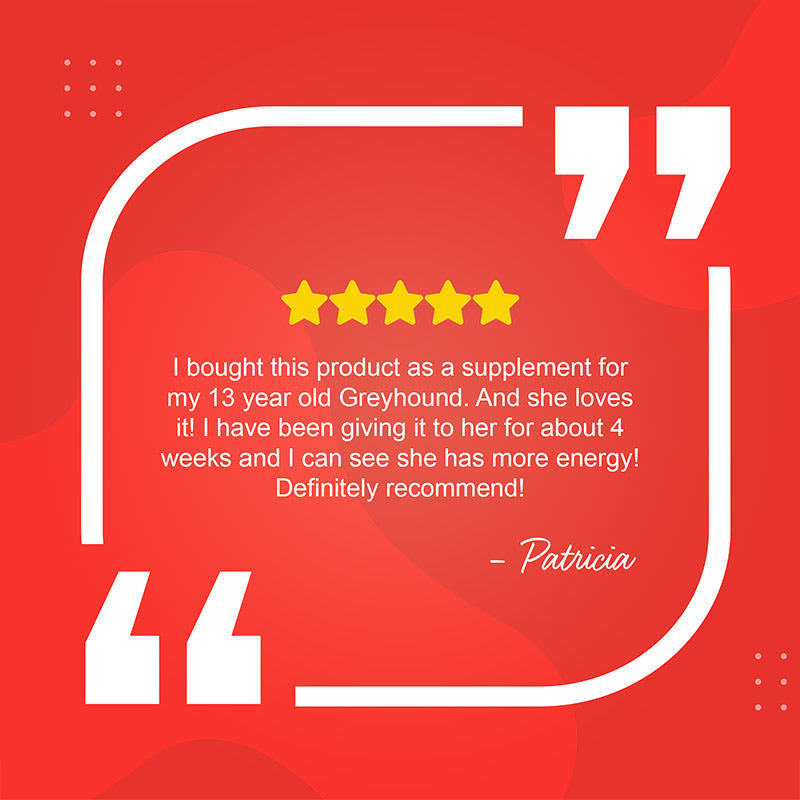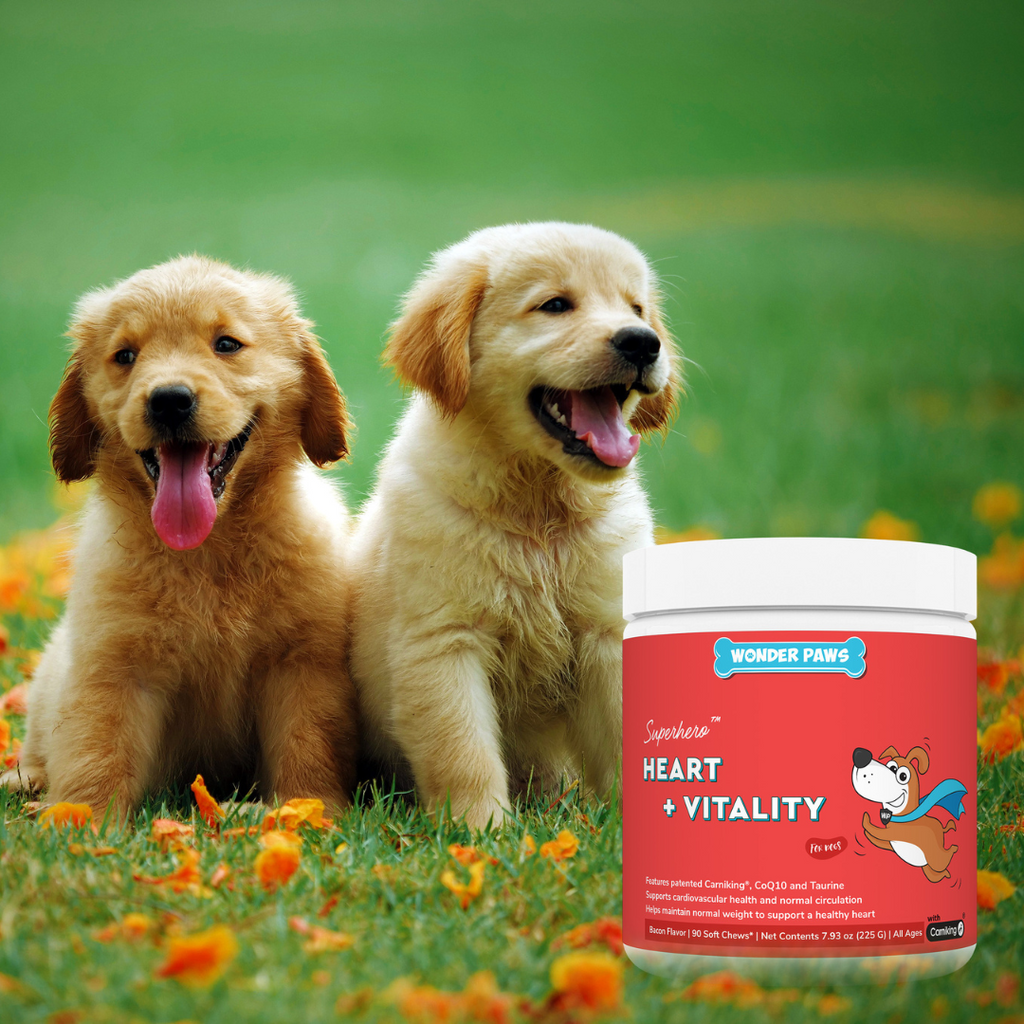 Free Shipping
Over $30

NASC
Certified

Made in the USA with
Global Ingredients

365 Day
Money-back Guarantee

Clinically Studied
Ingredients
Gentle Heart Support!
Our Heart + Vitality formula is designed to support normal cardiovascular function, have antioxidant properties and support healthy circulation in dogs of all sizes. Whether your pet is a pup or senior, give them the powerful heart-pumping superpower to face their daily challenges to make the fun last!
Supports a Healthy Heart
Are you looking to give your dog powerful heart support? Our chews are powered by Carnikingig, a clinically studied form of L-Carnitine that helps support a healthy heart and normal circulation. Treat your pet to the emperor of amino acids today!
Supports Circulation and Cardiovascular Function
Formulated with CoQ10, taurine and hawthorne berry, our supplement can help your pet enjoy life while supporting heart health and weight management. Try these powerful tasty heart support chews today!
Supports Weight Management & Muscle Function
Carniking L-Carnitine helps support weight management which is important for healthy cardiovascular function. A healthy weight also keeps your pet running strong and that beach body intact!
Make The Fun Last!
✔️ Cardiovascular, Weight Management & Circulation Support
✔️ Delicious Bacon Flavored Chews
✔️ 365 Days Money-Back Satisfaction Guarantee
✔️ Get the Heart Pumping Superpower Today!
What's Inside
Hawthorne Berry
A powerful fruit that helps encourage healthy heart function.
Taurine
An amino acid that plays a key role in several metabolic processes.
Carniking®
L-Carnitine
A clinically studied form L-Carnitine for pets that has shown powerful cardiovascular and weight management benefits.
COQ1O
Provides energy fuel to cellular mitochondria and to the heart while having antioxidant properties.
Our Cardio Chews are formulated to support healthy cardiovascular function. Whether your pet is a senior or young pup, our chews are designed to help support heart health, weight management, heathy muscles, circulation and normal blood flow.
Packed with COQ10, taurine, hawthorne berry and L-Carnitine (the emperor of amino acids!), our heart-supporting chews provide powerful nutrients designed to give your pet real results. Give your pet the heart-pumping superpower to make the fun last!
| | | |
| --- | --- | --- |
| | Up to 75 LBS | 2 Chews Daily |
| | Over 75 LBS | 3 Chews Daily |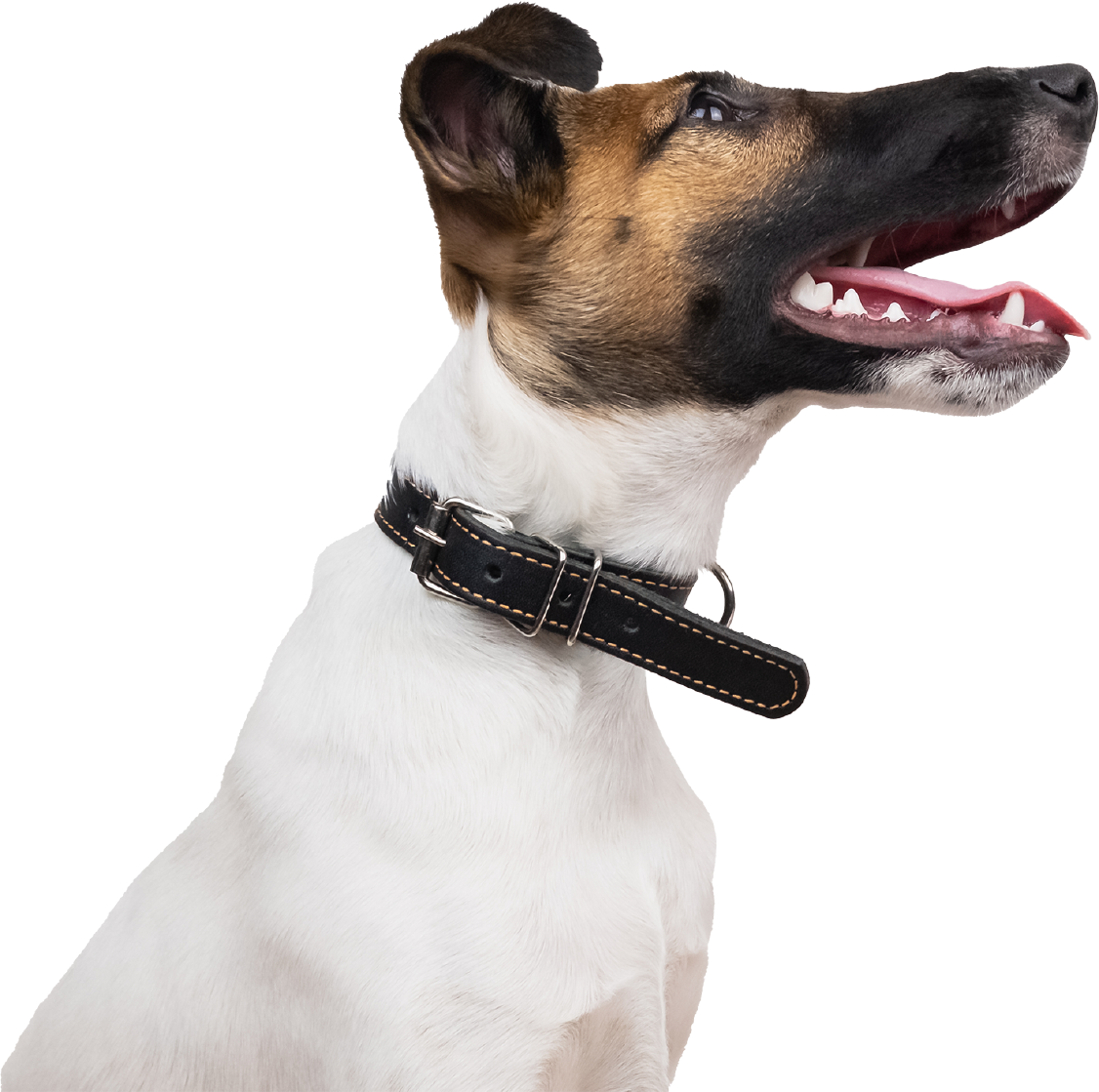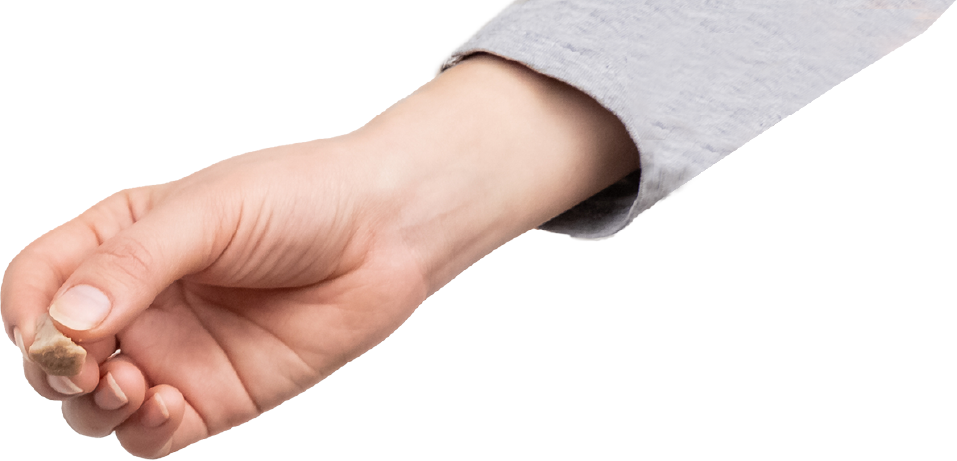 Ready for some health boosting powers?
Give your pet powerful heart support, healthy blood flow and weight management with our delicious Cardio Chews!
Add to Doggy Cart
Choose Your Healthy Superpower