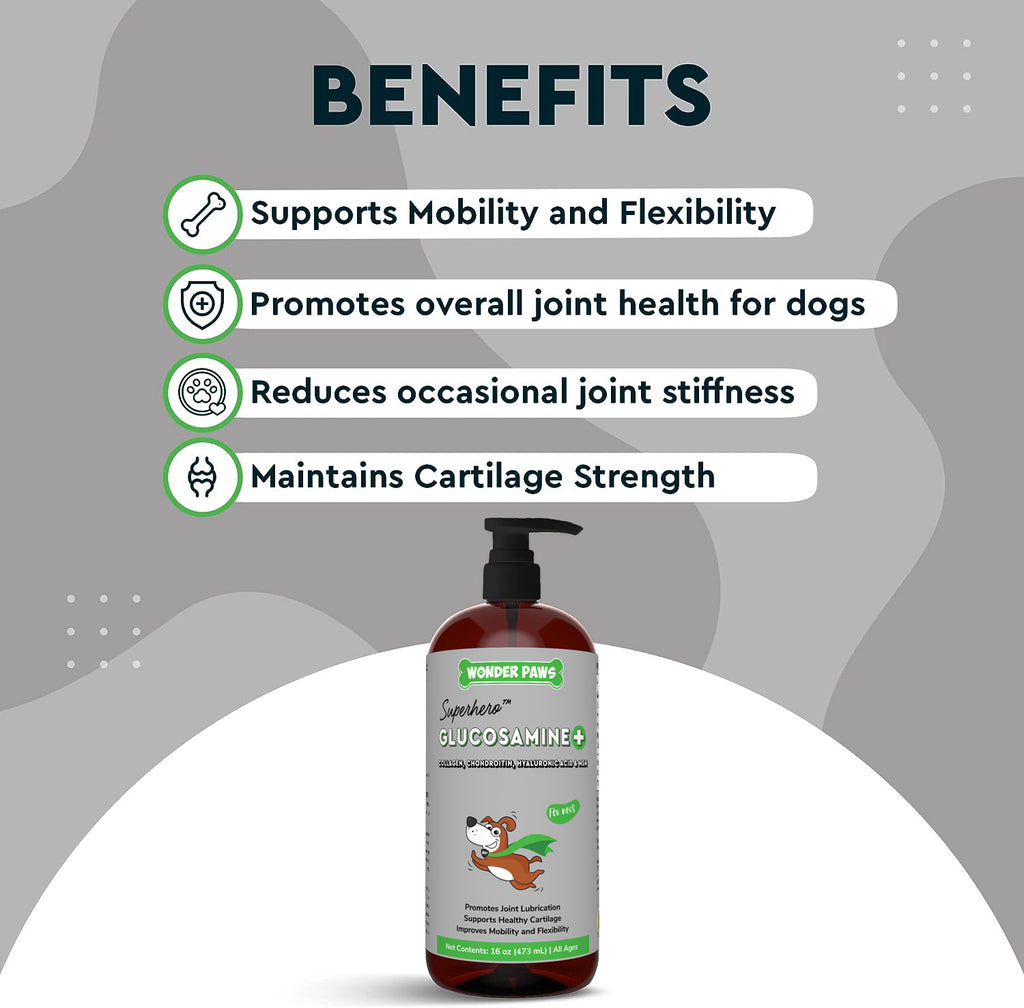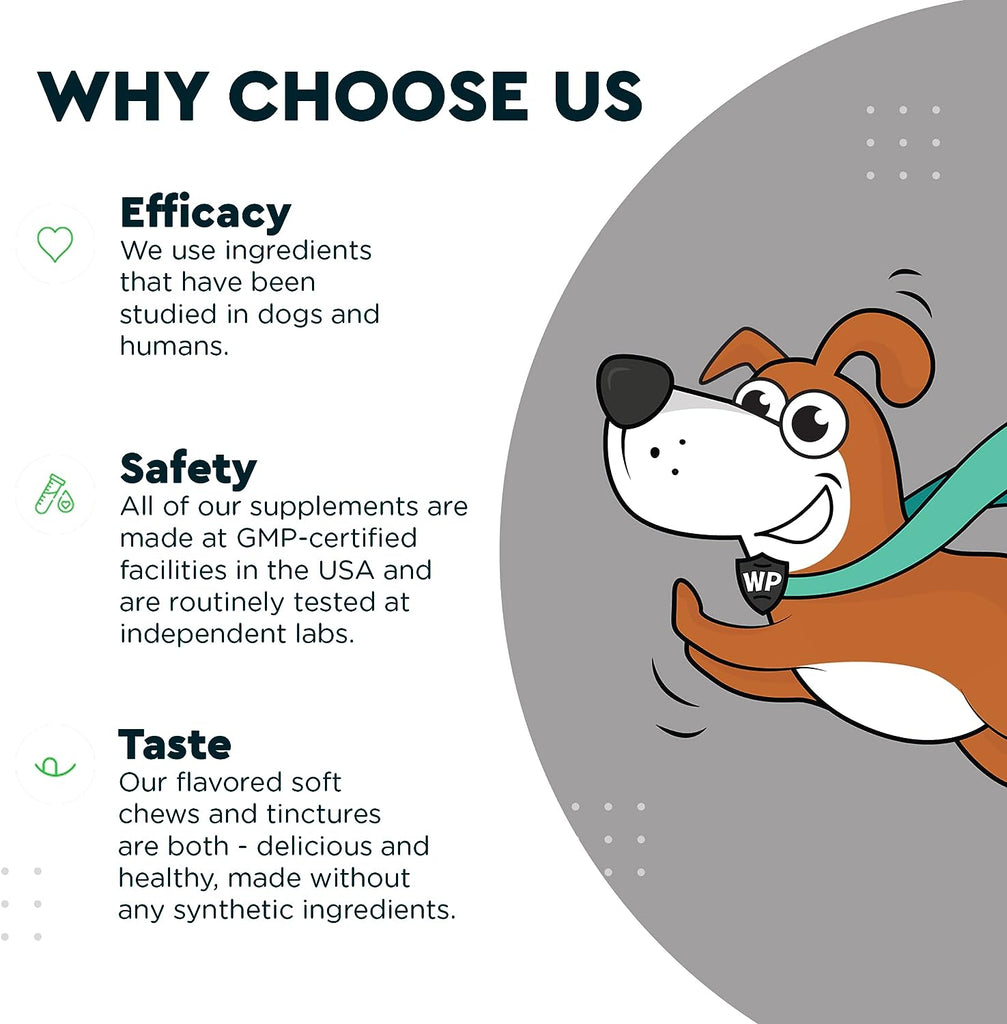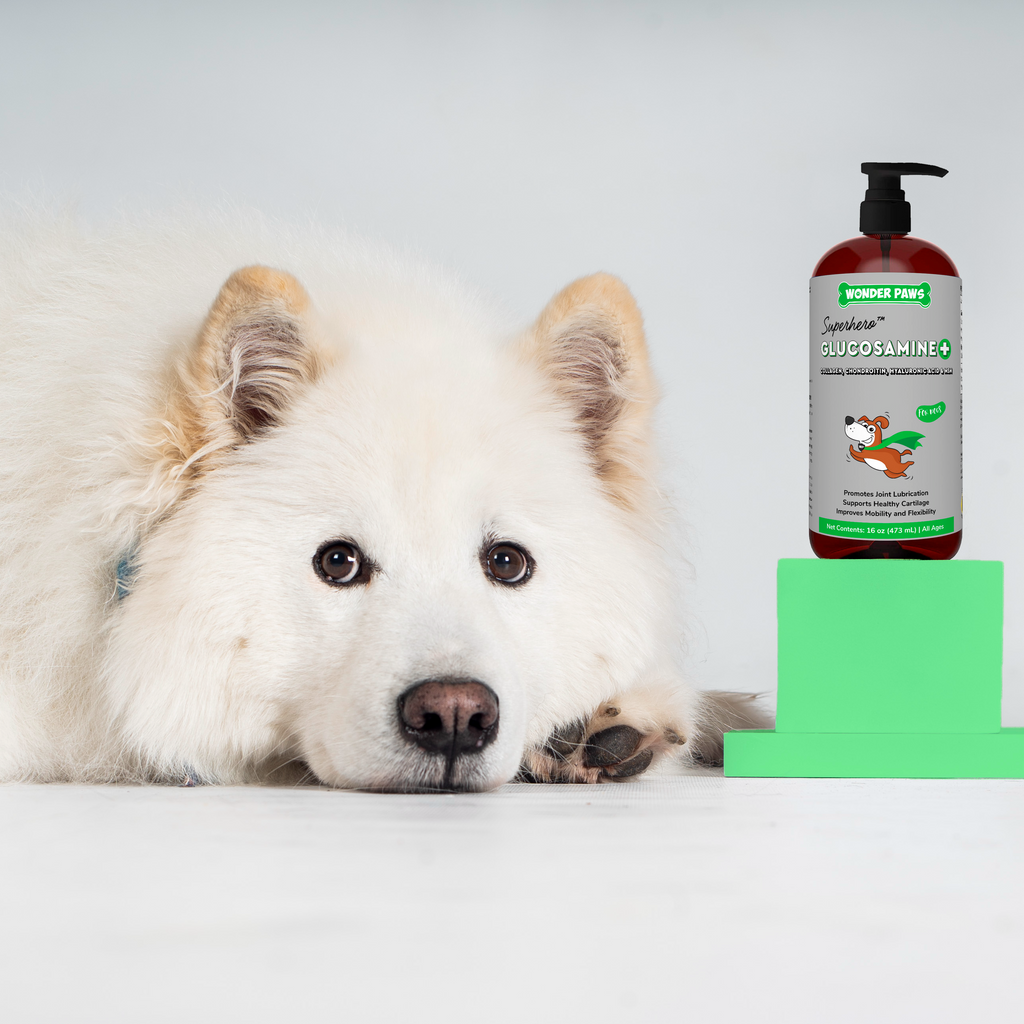 Free Shipping
Over $30

NASC
Certified

Made in the USA with
Global Ingredients

365 Day
Money-back Guarantee

Clinically Studied
Ingredients
Why Liquid Glucosamine?
Our Premium Liquid Glucosamine is designed to support hips, joints, muscles, and cartilage with the highest quality ingredients. Let your dog feel strong and powerful with these liquid drops as they harness their inner superhero!
Supports Hips & Joints
No matter your dog's age, size, or breed, this premium liquid supports the hips and joints, keeping your pal comfortable, active, and happy. Say goodbye to stiffness and hello to energy—now the fun times can really get rolling!
Improves Flexibility & Mobility
Wonder Paws Liquid Glucosamine reduces joint stiffness and promotes relief, helping your dog to stay flexible and mobile. This is a maximum strength liquid supplement with high-quality ingredients that have been studied and tested to keep the joints and cartilage of dogs in tip-top shape!
Vitamins that Nourish
Our formula features six powerful ingredients backed by science, all of which have been shown to support hips, joints, cartilage, and mobility in dogs. With glucosamine, chondroitin, MSM, collagen, hyaluronic acid, and manganese, this powerful liquid is not only filled with health benefits, but it has dogs everywhere drooling over the taste!
Make The Fun Last!
✔️ Promotes Joint Health & Cartilage Strength

✔️ Supports Mobility & Flexibility

✔️ Reduces Joint Stiffness

✔️ 365 Days Money-Back Satisfaction Guarantee
What's Inside
Glucosamine
Supports joint health and aids in the repair of damaged cartilage.
Collagen
Enhances skin, coat, and joint health due to its protein-rich structure.
Chondroitin
Helps retain moisture in the joints, providing cushion and reducing pain.
Hyaluronic Acid & MSM
Improves joint lubrication and reduces inflammation, easing joint discomfort.
Curious about the benefits of liquid glucosamine for your furry friend? Wonder Paws premium Glucosamine Blend liquid supplement for dogs is enriched with hyaluronic acid, collagen, and chondroitin. Our unique formula promotes joint health, flexibility, and aids in the maintenance of connective tissues. These key components are derived from high-quality sources ensuring optimum support for your pet's mobility and joint health. No more juggling between numerous supplements and droppers—from our glucosamine blend, your dog gets a comprehensive joint care solution!
| | | |
| --- | --- | --- |
| | Up to 19 LBS | 1 Pump Daily |
| | 20 to 39 LBs | 2 Pumps Daily |
| | 40 to 75 LBS | 3 Pumps Daily |
| | Over 76 LBS | 4 Pumps Daily |
* 1 Pump = 5 mL = 1 TSP (Teaspoon)
** Add the recommended amount to your
pet's favorite food :)
Results & Reviews
Choose Your Healthy Superpower